AT A GLANCE
The Scenario
Having a clear understanding of why Veracode wins and loses has always been paramount to the organization. In the past, Veracode used to conduct win/loss interviews in-house until its team came to the realization that this approach would only put them behind their goal of getting a consistent flow of win/loss insights required to drive significant organizational change.
The Question
What is the process that Veracode has put in place to digest win/loss insights to influence the organization's messaging, pricing, sales process, and competitive strategy?
A Model for Change
The strategic agenda for leveraging Veracode's win/loss insights comprises of four key components:
Scheduling regular win/loss meetings with key stakeholders to discuss relevant deals and assigning follow-up tasks to task owners,
Achieving a mix of positive and negative feedback to get a more accurate picture of the landscape,
Leveraging win/loss research to influence competitive strategy, and
Partnering with a win/loss specialist to secure a constant flow of win/loss insights.
"I've conducted win/loss interviews in-house in the past. What I found is that it's really hard to do that consistently. Although we are more expert on Veracode products than DoubleCheck, we wouldn't be able to consistently interview and deliver a certain number of reports per quarter because other things will always get in the way."
—Chris Kirsch, Director, Product Marketing at Veracode—
Veracode is a leader in securing web, mobile, and third-party applications for large global enterprises, and its product marketing team has been working with DoubleCheck for four years.
We recently talked with Chris Kirsch, director of product marketing at Veracode, about how the organization uses and benefits from win/loss insights, and what led the company to embark on the program. On arriving at Veracode, Kirsch started building out the product marketing function.
"One of the things I wanted to do was get visibility into why we're winning or losing because that's really important to influence anything product marketing does: the messaging, pricing, sales enablement, competitive landscape—all of these things," he said.
At Veracode, the product marketing team's responsibilities include owning the win/loss program and competitive analysis. The team uses DoubleCheck's win/loss insights across Veracode's entire product portfolio, and the two organizations also run a churned accounts program.
How to Prioritize Actionable Insights
Here are three best practices for how Veracode processes the win/loss research data it receives from DoubleCheck:
Flag relevant feedback immediately.

After reading a report, should Kirsch or his win/loss team member come across insights to share with particular individuals or teams, they do so straight away. That feedback might be an issue that sales reps, solution architects, or product managers need to pay attention to immediately, or it may be a relevant piece of information regarding a recent conversation Kirsch or his peer has had with other teams.
Hold regular win/loss meetings.

Once a month, Veracode's product marketing team hosts a meeting to go through the DoubleCheck win/loss reports as well as a selection of short write-ups from Veracode's Salesforce CRM. In attendance are the entire product marketing team, the directors of product management, several regional VPs of sales, and one or two services leaders. During the fast-paced, hour-long meeting, the attendees will discuss between 10 to 20 deals, mostly losses, at a high level. They will also determine if any follow-up actions are required.

Assign individuals to "own" further analysis. During the meeting, an individual may be tasked to conduct further investigation into a specific win or loss. Attendees may need more information before making a decision or they may require extra clarification about the next steps to take. Veracode tracks that process activity in a Confluence wiki and trusts the assigned individuals to complete the necessary follow-ups, depending on the importance of the issue. "Sometimes we learn something about a competitor, our products, or our processes that we want to change," Kirsch said. "So then there would be an owner to go and figure that out. There may be certain actions we want to take on how we develop or test the product, how we change pricing, or how we educate or retrain the sales team if something wasn't clear either to sales or to the customer."
Create a Culture of Sharing
Here are three major examples of how Veracode uses the win/loss data provided by DoubleCheck:
Filtering for meaning and what's actionable. In reviewing win/loss reports, Kirsch and his peers find that reports containing a mix of positive and negative comments tend to provide the most useful types of feedback. Reports that are entirely positive may yield little insights, while those that are wholly negative can be a reflection of the interviewee's personality and may need to be taken with a grain of salt. "The balanced reports provide you with the best picture. They tell you what you're doing right, what you're not doing so well in, and where you can improve," Kirsch said. "And I think it's both the wins and the losses because the losses aren't all negative, and the wins aren't all positive. In a balanced report, you get both sides from the customer."
Positioning insights as an opportunity to learn. All win/loss reports are uploaded to Veracode's sales intranet. Initially, Kirsch and the team were a little apprehensive about sharing the loss reports, but they position those insights as a positive learning opportunity for everyone, with no negative consequences attached. The team considered redacting elements from loss reports, but then determined that anonymizing a sales rep's identity fully would also entail redacting the customer's name and company description, and therefore would lessen the overall value of the findings. "When we point out that there's no salesperson who's never lost a deal, folks typically relax," Kirsch said.

Determining whether or not more study is warranted.

Kirsch and the team ensure that action on win/loss insights isn't taken based on one data point. If an issue is identified in a single report, then the team will monitor both qualitative and quantitative data to see if that finding bubbles up again in other reports. The team will also consider if more internal or external research needs to be conducted—for instance, a study on pricing strategy. At the same time, the team will also talk with their peers in sales to find out what they're hearing from customers and the market in general.
Fuel Your Competitive Intelligence Program
Here are four types of major benefits that Veracode is already realizing from the insights contained in the win/loss research data from DoubleCheck:
Identifying different levels of competitive threats. As well as individual win/loss reports, Veracode also receives annual executive summaries of multiple reports from DoubleCheck. Typically, Kirsch and his team will take 20 to 30 minutes in a meeting with Veracode's executive leadership team to present the aggregated data, which is a mix of phone interview and online survey responses. These insights have a strong influence on Veracode's competitive analysis program, particularly in highlighting the vendor's Tier 1, Tier 2, and Tier 3 competitors. "Win/loss also helps inform us how we sell against our competitors," Kirsch said. "So, we start to have some information about what competitors are good and bad at in the minds of the customers. Win/loss and our competitive analysis feed off of each other, and we're now moving both of those programs under the same person."
Influencing the direction of competitive strategy. Win/loss also provides customer insight on how often Veracode is pitted against particular competitors and at which stage of the sales funnel those rivals get disqualified. This knowledge helps Veracode determine which competitors it makes the most sense to run competitive campaigns against and at what point to do so during sales engagements. Additionally, Veracode gains more insight into which competitors most often end up on customers' shortlists. Armed with this knowledge, Veracode can ensure that it's investing in the right set of competitive bake-offs or proof of concepts (PoCs) against the vendors that customers shortlist the most often. "For example, we saw one competitor show up a lot in the first stage of the funnel, then they dropped off super quickly," Kirsch said. "We did see them in a lot of deals, but they were eliminated very quickly, which shows me that they either have good branding or good lead generation, but not a very good product."
Challenging existing competitive assumptions. The insights from win/loss about Veracode's competitors may also reveal some surprises, such as an uptick in the win rate of a rival previously assumed to be dead in the water. That kind of interesting feedback may result in continued monitoring of veteran competitors even when it seems that their market presence has lessened.
Informing sales enablement sessions. Win/loss may uncover one or more data points relating to sales knowledge and customer understanding. For instance, a customer may think Veracode lacked a particular feature and didn't buy the product for that reason, but Veracode already has that functionality. Often, these insights might be the start of further analysis into what led to that misperception, whether it was a one-off instance limited to a single sales rep or a broader issue to be addressed during a general sales enablement session.
Leverage an Expert
Looking ahead, Kirsch is eager to improve win/loss data to compare the win or loss rates across different territories. Being able to slice and dice the data will help uncover any areas for action, such as a need to focus more resources in one region to onboard new sales reps and accelerate their productivity.
Relying on an ongoing, continuous flow of win/loss insights is one of the primary benefits for Veracode in working with a third-party win/loss specialist and partner like DoubleCheck.
"I've conducted win/loss interviews in-house in the past. What I found is that it's really hard to do that consistently," Kirsch said. "Although we are more expert on Veracode products than DoubleCheck, we wouldn't be able to consistently interview and deliver a certain number of reports per quarter because other things will always get in the way."
He added, "Having an external party committed to that win/loss process and also holding us accountable is really useful. Another aspect is that the customer might be more open and comfortable speaking to an independent third party than to us because … if you're calling somebody's baby ugly, it's better if you're not talking to the parents directly!"
Want to learn more about the power of win/loss analysis? Check out some of our other awesome content.
Image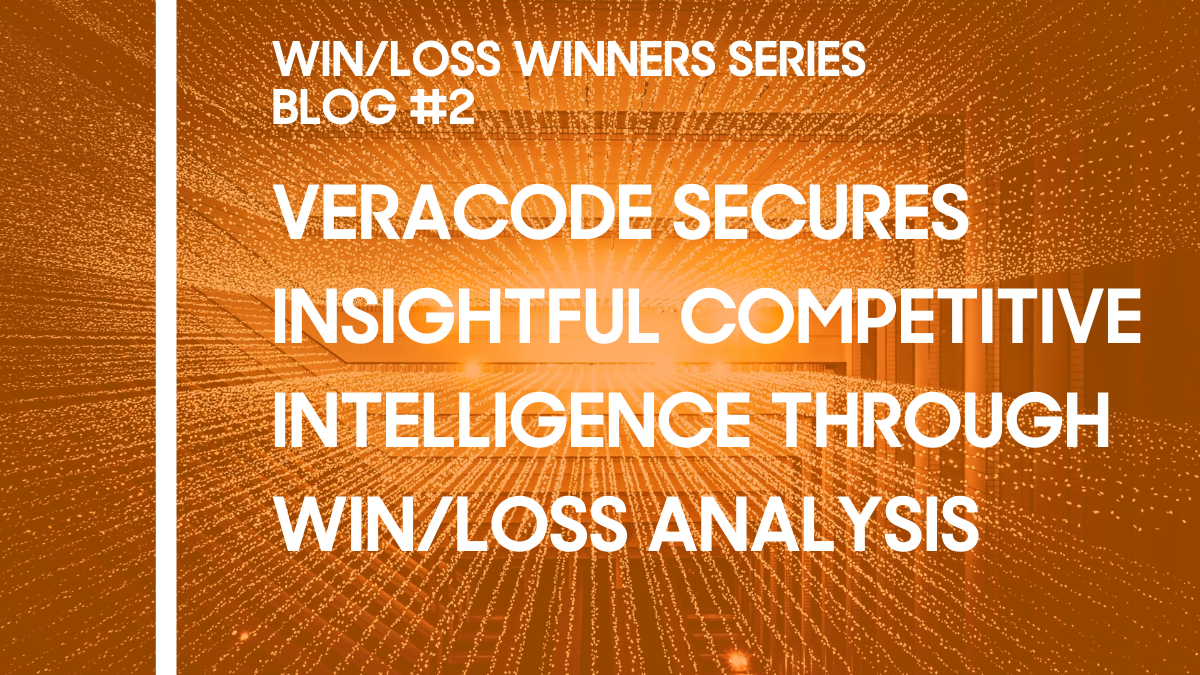 Become a DoubleCheck Insider!
Fill out the form below 👇 to get the latest win/loss and churn analysis insights delivered straight to your inbox.