How Communication is Critical to Program Success
In the previous four articles, we outlined how to ensure program adoption, create your interview guide, build your technology stack, and qualify your win/loss analysis targets. Next, it's time for you to build a communication plan that will powerfully support your win/loss analysis program. Too often, programs fail due to miscommunication with staff and potential interview targets. Follow the advice below, however, and you'll successfully create program awareness, interest, and accountability, both internally and externally.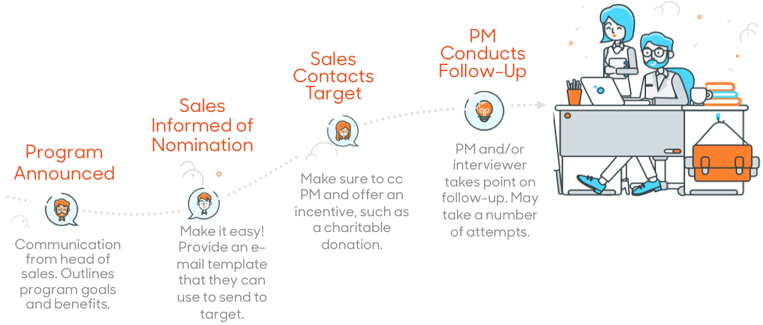 Have Your Sales Leader Announce Your Win/Loss Program
Think carefully about how you announce your win/loss program to your sales team, since their support and program buy-in are vital. A wrongly handled announcement can make sales feel like the program is intended to scrutinize them, rather than help. To ensure success, have the head of sales announce the program, including goals, simple instructions for sales staff to follow, and how the program will benefit the team, both individually and collectively. The latter is especially important, since making the team feel actively involved helps ensure adoption.
Likewise, when it comes to nominating interview targets, sales leadership can deliver the news to each relevant sales representative that their contact has been elected, giving them a chance to respond. Once again, such inclusion encourages program buyer-in. The more involved your sales team feels, the better.
Leverage the Primary Sales Contact to Invite Win/Loss Analysis Targets for Interview
Cold e-mails are less effective. Your targets will more likely agree to the interview if they're invited by someone with whom they already have a relationship, good or bad. This makes the primary sales contact the best person to initially reach out. However, have the sales rep also copy the internal win/loss project manager on the e-mail, requesting that the recipient "reply all" in response. Following the initial email, the project manager, who is uniquely positioned to manage the program and interview process, can take over communication and work to schedule the interview.
The trick is to make this process as easy as possible for the salesperson. Afterall, we want them selling! Giving the sales contact a simple, standard e-mail template that they can leverage when reaching out to targets also simplifies this process. With this template, the invite is likely to be swiftly delivered and the wording can be thoughtfully controlled. Careful planning and editing of this template is vital. Your target needs to feel that their feedback will be respected and that it will positively affect your company's future sales, product, and marketing strategies.
While some many no want to involve the salesperson in the outreach process, we encourage those people to pause for a moment and consider the risks. The biggest of the risks is creating an environment where sales feels threatened by your program leading to sense of mistrust, program related anxiety, and productivity loss. By not involving sales, you may also inadvertently jeopardize the outcome of an active deal by contacting a buyer who you believed was already a loss, causing them confusion and frustrating the sales lead. By leveraging the salesperson you ensure that you're reaching out to qualified win/loss target companies but also the individual contacts most qualified to answer your win/loss questions. This exponentially increases your chances of collecting meaningful insights. By including sales in the process you are also providing them with a level of comfort that the program is a partnership and that their opinion through the process matters. Programs that adopt this approach see higher interview request response rates, more valuable insights, greater internal program acceptance, and job security for the program lead based on the fact that sales values your contributions and continues to view you as a strong sales enablement partner.
Include an Incentive in the Standard E-mail Template
It can take several follow-up e-mails or calls from the project manager for the target to agree to the interview. However, you increase the response rate by including incentives in the e-mail template. Offering a gift card or donation to a charity of choice can sweeten the prospect of the interview. Also, when it comes to the actual discussion, a charitable donation makes for a warm conversation starter, putting the interviewee at ease and promoting an open discussion. Such an incentive acknowledges your target's time and effort, too, while promoting your company as a thoughtful, responsive brand.
Without a strong communication plan, many win/loss programs miss out on important insights. But by acknowledging that external and internal communications are both vital to win/loss analysis, you ensure program buy-in from sales staff and targets, encourage your interviewees to be open in their responses, and strengthen the reputation of your company's brand. These aspects also increase the probability of valuable win/loss data.
Want to learn more about win/loss analysis? Check out some of our other awesome content.
Become a DoubleCheck Insider!
Fill out the form below 👇 to get the latest win/loss and churn analysis insights delivered straight to your inbox.